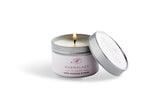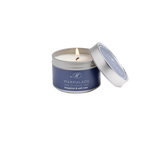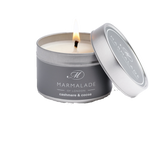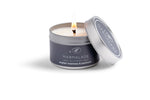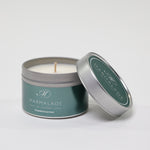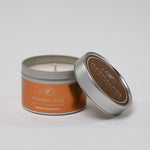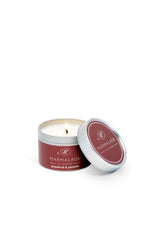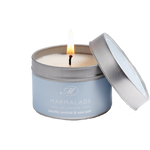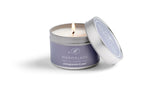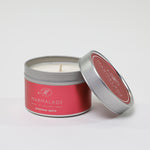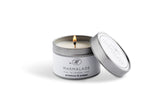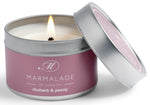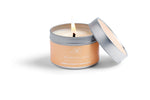 Candle Tin
$17.00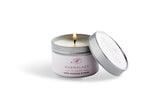 Candle Tin
$17.00
All candle tins have a burn time of 40 hours
Bergamot & Soft Rose: A powerful floral accord with notes of Bergamot, Soft Rose, Violet, Lily, Jasmine, Geranium and Lavender on a base of Vanilla, Patchouli and powdery Musk.
Cashmere & Cocoa: Rich, Creamy Sandalwood, blended with Powdery Vanilla and Cocoa, creating sophisticated elegant Sandalwood accord with a hint of Cinnamon.
English Rosemary & Patchouli: English Rosemary, Patchouli and cold pressed Italian Bergamot combine to create an invigorating and refreshing fragrance.
Frankincense: The Warm, Aromatic aura of the passion of Christmas with Frankincense immersed in Warm Amber, Rock Rose and Myrrh. These are complimented by three Regal Woods from the Orient: Cedar, Vetiver and Patchouli. 
Golden Amaretto: Amaretto laced with Dark Chocolate and Crushed Almonds.
Grapefruit & Pimento: Top notes of grapefruit, pimento, lemon and pepper on a base of tangerine, rosemary, clove and nutmeg.
Pacific Orchid & Sea Salt: Coconut, Orange, Bergamot on a middle of White Flowers, Vanilla, Pacific Orchid with base notes of Amber and Sea Salt. 
Pomegranate & Pear: A fresh, pomegranate fragrance enhanced by notes of Tart Cranberry, Green Pear, Apple resting on a base of Precious Woods and Dry Fruits.
Precious Spice: A Rich, Warm, Festive fragrance with Clove buds and Cinnamon sticks, freshened by mouthwatering Clementine.
Prosecco & Juniper: A beautiful blend of prosecco superior, juniper berries, sugared rose petals and winter peony.
Rhubarb & Peony Tin Candle: Tart Rhubarb, Pink Peony Petals, Dewy Rose and a hint of Vanilla.
Seville Orange & Clementine: A mouth-watering, juicy Orange fragrance enriched by hints of sweet Clementine.
White Nectarine & Honey: A beautiful blend of delicate White Nectarine blended with fresh spring flowers on a base of luxurious Manuka honey.