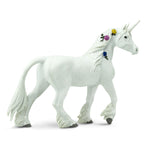 Scientific Name: Rinocerotis
Characteristics: Head held high, this unicorn figure looks ready to trot into a story of its own. The decorated mane might symbolize the beauty of the maidens with whom unicorns are often associated.
Size and Color: The shimmering white coat of this gorgeous figure is punctuated by brilliant splashes of color from the flowers in its mane. At 5 ½ inches long and 4 ½ tall the figure sizes up well with our fantasy and mythical creatures, as well as our other horses.
The Unicorn is part of the Mythical Realms® collection.
All of our products are Non-toxic and Bpa free.