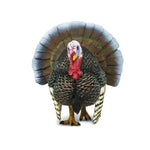 Scientific Name: Meleagris gallapavo
Characteristics: This domestic turkey displays all of its assets, including a widely fanned tail and bright red snood and wattle. It's completely characteristic of a full-grown male turkey.
Size and Color: With its tail feather extended and head held high, this brilliantly colored turkey stands 3 inches tall and 2 ¼ inches long, about the size of a medium muffin. The color palate is extensive for maximum realism.
The Turkey is part of the Safari Farm collection.
All of our products are Non-toxic and Bpa free.