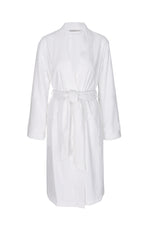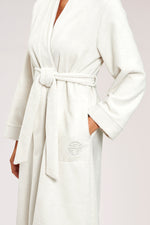 By the famous Parisian couture house of Louis Féraud who is famous for his very feminine fashion. Féraud dressed film divas of the 50's and 60's in gowns for the Cannes film festival and costumes for unforgettable films.
Unlike the many thick, bulky bathrobes, this one is much better suited to fit a woman's figure. It is slightly tailored at the waist and cut a little narrower in the back section and shoulders. As a result, the curves look graceful and less bulky.

On the inside, the substantial terry cloth dries your skin in an instant. Classic wrap-around with a tie belt, belt loops, lapel collar, and 2 pockets (one of the pockets features the Féraud logo).

Slightly tailored cut. 131.5cm (51.7″) long in all sizes. 100% cotton. Machine wash. By Louis Féraud, Paris.