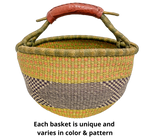 They are roomy and sturdy with a leather finish around the handle. All baskets are handwoven and the elephant straw is hand-dyed before the weaving process begins. It can take an experienced weaver 2-3 days to create one of these beauties.
Each basket is individual in shape and color due to handmaking process.
100% Elephant Grass
Handmade in Ghana by Women artisans.