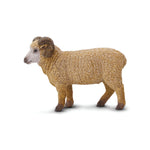 Scientific Name: Ovis aries
Characteristics: This well-built ram figure is the leader of his flock. His large, curved horns are helpful for settling arguments with other rams in the flock.
Size and Color: This light brown ram has realistically textured fur and measures 3 ½ inches long and 2 ¾ inches tall, a little larger than a computer mouse.
The Ram is part of the Safari Farm collection.
All of our products are Non-toxic and Bpa free.