+Protect First Care Kit w/No Knob™ (Size Medium/Large)
$34.99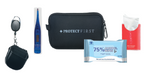 +Protect First Care Kit w/No Knob™ (Size Medium/Large)
$34.99
Stay healthy, safe and always remember to "Protect First". This exclusive +PROTECT FIRST care kit contains the essential items* needed to safely navigate all personal and business encounters. 
The +PROTECT FIRST care kit includes the following items:
Neoprene Accessory Pouch
Conveniently store and transport personal protective gear
Carabiner clips to backpack, luggage
8" W x 5" H x 1" D
Sanitizer Wipes
75% alcohol wipes which eliminate 99.99% of viruses and bacteria
Digital Thermometer
Measure/monitor your body temperature on-the-go
Pack of Mini Tissues
No Knob
Choice of Medium/Large Size No Knob™
For worry-free contact with everyday surfaces.
*Sanitizer Wipes will vary
Delivery & Returns

Free shipping on all orders over $75.

Gift wrapping is included on all collections. All gifts without a basket or container in the collection include a specialty, reusable Cadeaux gift box.

View our return policy here
*Collection accessories are subject to slight variation based upon availability yet will maintain the integrity and value of the pictured curation.