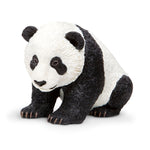 Scientific Name: Ailuropoda melanoleuca
Characteristics: Like all Safari models, this figurine was hand painted and professionally sculpted for true-to-life scientific detail, and is an excellent tool for creative play, teaching, and much more. Infant pandas rely on their mothers for protection, so make sure to pick up our adult panda model so it can care for this cuddly cub!
Size and Color: 3.75 inches tall and 2.75 inches long, this our panda baby statuette is roughly the size of a deck of cards stood upright. Shortly after being born, baby pandas develop their iconic black and white coat.
The Panda Baby is part of the Incredible Creatures® collection.
All of our products are Non-toxic and Bpa free.