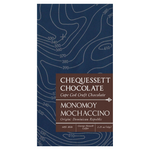 A great bar for coffee enthusiasts, this 60% milk chocolate bar is made with George Howell Coffee from the Tarrazú region of Costa Rica, and organic Humbolt Creamery milk from Northern, California. This is a dark milk chocolate with a much higher percentage of cacao in it than typical milk chocolate, which compliments the freshly roasted coffee and creates a balanced blend suggesting a frothy mochaccino.

Coffee Origin: Tarrazú, Costa Rica
Coffee Roaster: George Howell Coffee - Acton, MA

Coffee Tasting Notes: Dark chocolate, caramel, walnut

Cacao Origin: Dominican Republic
Percentage: 60% Dark Milk
Ingredients: Organic cacao beans, organic evaporated cane juice, organic cacao butter, organic milk powder, coffee, sunflower lecithin.
Soy and Gluten Free.
Allergy Information: Manufactured on shared equipment with products containing milk, eggs, wheat, peanuts & other nuts.