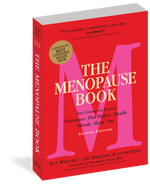 Your Questions, Your Answers:
Is it possible that I could get another period after more than a year without one?
Losing weight at midlife feels like an uphill battle—what's the healthiest approach?
How do I perform a breast self-exam?
Is hormone therapy necessary—and if so, which one is right for me?
How effective are Kegel exercises, and how do I do them?
I'm starting to get adult acne—is this normal?