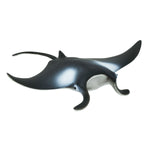 Scientific Name: Genus Manta
Characteristics: Despite their massive size, manta rays do not have toxic barbs and are harmless to humans. Turn your living room into the deep blue sea with this hand painted and life-like figurine!
Size and Color: 4 inches long and 4 inches wide, both dimensions of this model are a little shorter than a soda can resting on its side. Manta rays are predominantly black, and have white accents along their fins and heads.
The Manta Ray is part of the Wild Safari® Sea Life collection.
All of our products are Non-toxic and Bpa free.