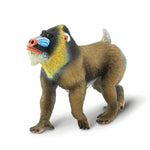 Scientific Name: Mandrillus sphinx
Characteristics: This male Mandrill figure is posed in a mid-walking stance. Its bright colors are on full display and its features – from its distinctive facial ridges to its fur coat, are reproduced in exacting detail.
Size and Color: This hand-painted Mandrill figure features a mainly brown coat of fur, with accents of dark brown, light brown, white, and yellow ochre. The hairless areas are painted in reds and blues. The Mandrill is about 3 ¾ inches long and just under 3 inches tall, a little bit bigger than a standard paper sticky note.
The Mandrill is part of the Wild Safari® Wildlife collection
All of our products are Non-toxic and Bpa free.