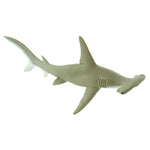 Scientific Name: Family Sphyrnidae
Characteristics: This model depicts the hammerhead shark's atypical "cephalofoil" head, which not only allows it to see above and below itself, but can also be used as a tool to pin prey against the ocean floor. Learn more astounding facts about this animal with our scientifically accurate figurine!
Size and Color: Standing 2 inches tall and 6.5 inches long, this model is as tall as a stick of lip balm stood upright and about as long as a dollar bill. Hammerhead sharks vary in color depending on their species, but are usually a shade of grayish-brown.
The Hammerhead Shark is part of the Wild Safari® Sea Life collection.
All of our products are Non-toxic and Bpa free.