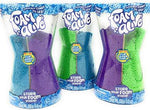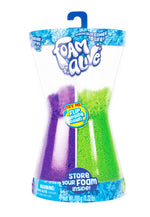 Double the fun with the Foam Alive Double Flip Pack! It contains two Foam Alive colors (colors vary) in a cool hour-glass shaped reusable storage container. Flip it to flow and watch it go! It magically comes to life! Foam Alive is soft, squishy, fluffy foam that mysteriously moves in "Flow Motion." Place Foam Alive in your hands and let it flow through your fingers! It looks like it is actually melting!
Colors combinations will vary.
Foam Alive is mess free and easy to clean up. Plus, it never dries out! You will be mesmerized for hours by how it moves and feels. Once you start playing with Foam Alive, you won't be able to put it down!

Dimensions (cm):
11 x 8 x 19