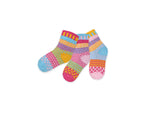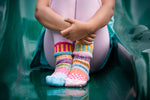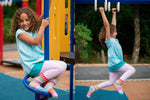 Solmate Socks Kids Socks come in sets of 3: A pair + 1 spare! Whimsically mismatched with recycled materials and made in the USA, our kids socks are the perfect pop of color for precious little toes. 
Colors in this sock: baby blue, light pink, magenta, magnolia yellow and mint green.
62% Recycled Cotton, 22% Recycled Polyester, 15% Nylon, 1% Lycra.