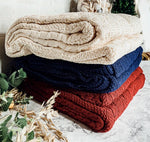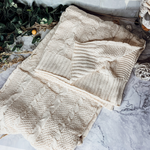 Claret Knit Sweater Like Throw Blanket
$99.99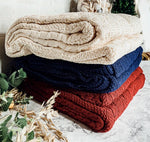 Claret Knit Sweater Like Throw Blanket
$99.99
Our Claret Knit is one our favorites due to it's sweater like appearance & feel. 
It is light enough to use on mild summer days and warm enough to be nice and cozy by the fire in winter.
Our standard size is just right for curling up on the couch or lounging in bed.  Want to cuddle with someone else or like those XL throw blankets? We've just added a new larger size in our Ivory and a matching 18x18" pillowcase!
Our cotton cable-knit is an all season layering staple in every room.
Hand finished details give each piece an heirloom feel.
Makes a thoughtful piece to give for a housewarming or gift for many occasions, great holiday gift. 
Fine gauge yarn feels soft and silky.  It is def our year round go to for lounging for the ultimate comfy time!