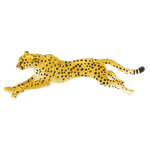 Scientific Name: Acinonyx jubatus
Characteristics: Did you know that cheetahs can accelerate to their full speed from a standstill in under three seconds? Our hand painted and true-to-life cheetah figurine captures the natural beauty of this incredible hunter.
Size and Color: 6 inches long and 2 inches tall, this cheetah figurine is a little larger than a soda resting on its side. Complete with its attractive amber brown and black spotted coat, this model deserves a place in every collector's display!
The Cheetah is part of the Wild Safari® Wildlife collection.
All of our products are Non-toxic and Bpa free.