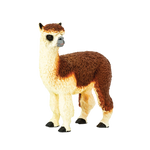 Scientific Name: Vicugna pacos
Characteristics: Resembling a llama or camel, the smaller cousin displays the thick fur for which it's famous. Alpacas have exploded in popularity and are now raised far from their home in the Andes Mountains.
Size and Color: A delightful combination of colors and textures completes the realism of this 3 ¾-inch-high alpaca figure. It's also 3 ¾ inches long, making it about the size of a slice of bread.
The Alpaca is part of the Safari Farm team.
All of our products are Non-toxic and Bpa free.