Warm & Toasty - Burgundy
$86.00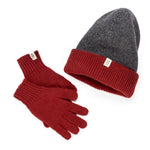 Warm & Toasty - Burgundy
SALE
Choose your winter look. This merino reversible beanie can be worn four different ways, including folded to show the opposite color, or unfolded as a slouch cap. Fleece-lined gloves keep hands perfectly warm.
Delivery & Returns

All Discounted Merchandise is Final Sale
*Collection accessories are subject to slight variation based upon availability yet will maintain the integrity and value of the pictured curation.