Hats Off to You!
$109.19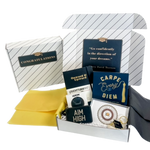 Hats Off to You!
$109.19
Delivery & Returns

Free shipping on all orders over $75.

Gift wrapping is included on all collections. All gifts without a basket or container in the collection include a specialty, reusable Cadeaux gift box.

View our return policy here
*Collection accessories are subject to slight variation based upon availability yet will maintain the integrity and value of the pictured curation.